Welcome to Bunyas Photo Day Information
Group photo's 
 Composite Groups will be compiled by Studio for your centre using vertical individual image of photographers choice
 No Traditional group is taken of your child.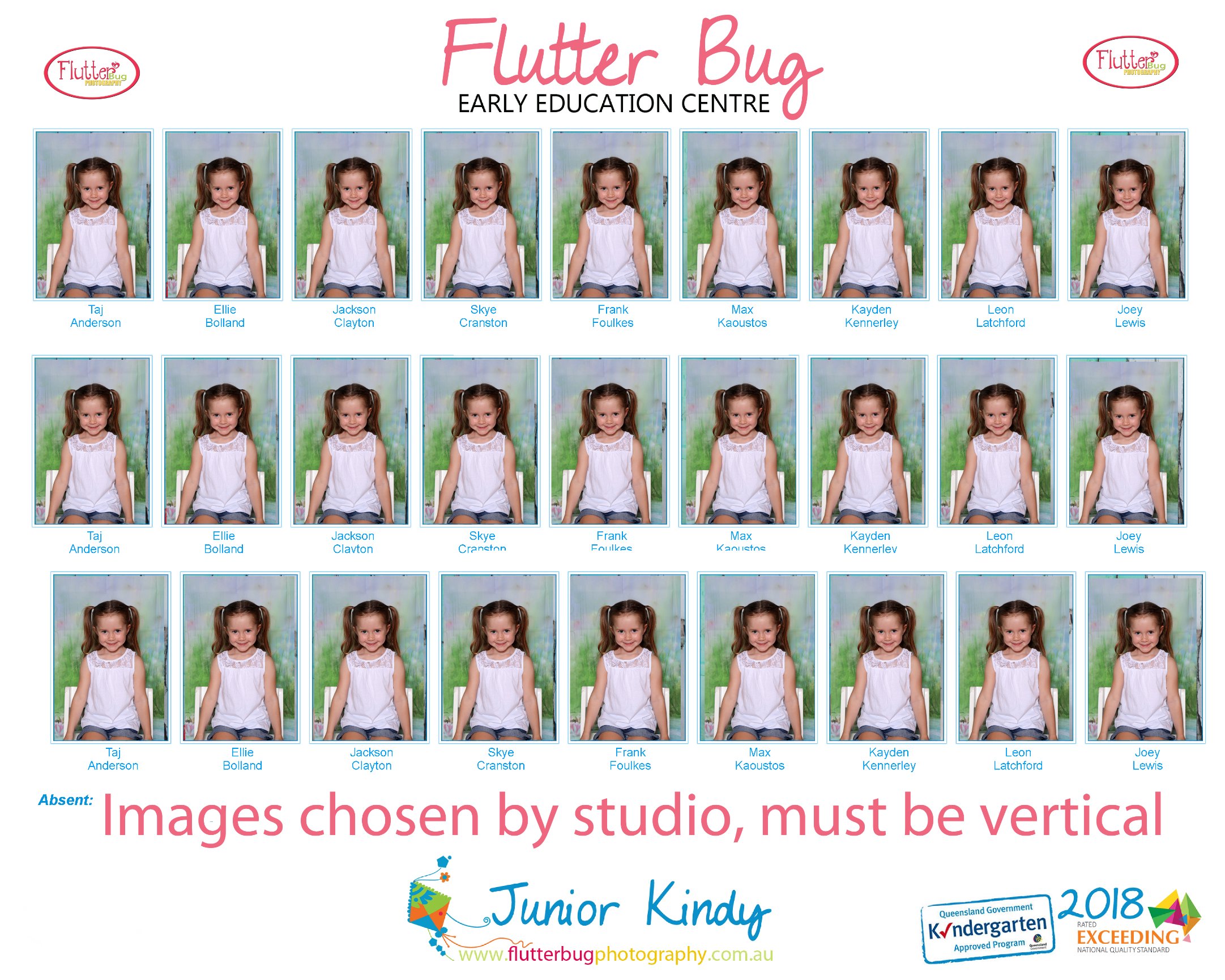 ONLINE ORDERING INFORMATION
Online Ordering information will be available to you on your KINDY HUB 48 hours after photo day.
Quick Links to proofing
Centre's private password 
Ordering/Payment Due Dates
Run Down 
Tuesday 10th March 8 am start
If your child attends on a Tuesday this is their main day.
Wednesday 11th March 8 am start
If your child only attends Wed/Thur this is their day.
Thursday 12th March 8 am start
Remainder of children will be taken on this day. 
 What if my child doesn't attend centre on either day?
If your child only attends centre on Mon/Fri please bring them in between 10:30am -11:00 am to have an individual portrait taken on Thursday to avoid long waiting periods .  On the Tue/Wed we will be concentrating on the children that attend centre on those days to work in with feed and sleep times. 
No ordering is done prior to Photo Day
Notification will be sent out via email or put on your centre's Kindy Hub with quick links and information on How to view proofing and place orders on Friday 13th March.
Parents take back Control
Why get locked into a package before viewing images. 

 We offer proofing and ordering after photo day!

No more disappointments when packages have been returned to centre

48 hours after photo day images are uploaded into a secure gateway.

Flutter Bug Photography has implimented two print runs giving parents more flexibility to make payment.

 1st print run delivered within 4 weeks after photo day.

2nd print run delivered within 7 weeks after photo day.

Photo day make ups in studio (by appointment only)

We cater for all Budgets!
No Ordering can be done before photo day.  Proofing/Ordering will be activated on Friday 13th March by 8pm
Your centre has chosen the Bokah Sun background that is featured below!
CHILDREN SICK ON PHOTO DAY/AWAY ON HOLIDAYS
If your child is sick on day and you would still like photo's taken of your child, please give me a call and we can arrange a date and time for you to come to studio.  
If you have booked family holidays we can do portrait prior to photo day in studio or 14 days after Photo day before order due date.
All groups are chosen by studio,  group template and names will be finalised and sent to your centre for any name corrections.  After this time I will be unable to add children to group photo as the layout has been compressed by lab at a surcharge.
Kind regards
Ang
Attention Parents
If you do not want your child's details/image to be uploaded into secure gateway that is only accessible to parents at your centre. Please contact me directly before or on photo day as I upload images to website 24-48 hrs after images have been taken.
No orders are taken until after Photo Day.  Proofing will be uploaded into SHOP/EVENT PROOFING section on website within 48 hours.